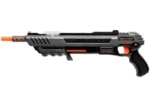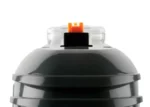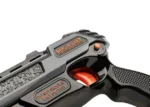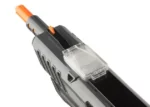 Bug-a-Salt 3.0 Black Fly edition
€57,95
This Bug-A-Salt BugBuster Black Fly 3.0 salt gun is certainly not a requirement to get rid of flies, but it sure makes it a lot more fun! The salt gun has a tactical look and it can be used to shoot pests (flies, mosquitoes, spiders and more). This can be done up close, but of course it is much more fun to do it from a distance. The BugBuster Black Fly 3.0 salt rifle has a stronger spring than its predecessors, so the salt you shoot gets much farther and goes much faster. So you can also get rid of your pests from further away.
The targets you shoot at are quite small, making it important to aim well. You do that easily thanks to the keep and grain. The trigger is very light and it is easy to pull, which adds to its cleanliness. There is a transparent salt reservoir on top of the Bug-A-Salt BugBuster Black Fly 3.0 salt gun that is easy to refill. And that salt is all you need to use the salt gun. Fill with salt, reload with the contoured pump-action handle at the bottom of the front end and shoot away. No batteries are required.
It can be dangerous to shoot into the eyes or face with the Bug-A-Salt BugBuster Black Fly 3.0 salt gun. Therefore, it is not suitable for shooting people or pets. There is a safety catch on the salt gun, preventing it from going off accidentally.
| | |
| --- | --- |
| Weight (grams) | 750 |
| Total length (mm) | 540 |
10
People watching this product now!
Only logged in customers who have purchased this product may leave a review.