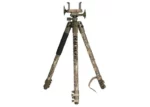 BOG Death Grip Tripod Aluminum Realtree Excape
€269,00
Betaal de eerste termijn direct via iDEAL. De tweede en derde termijn betaal je binnen 30 en 60 dagen. Zonder rente, zonder BKR-registratie! Klik voor meer informatie
The BOG DeathGrip Aluminum Realtree Excape tripod functions not only as a rifle rest, but also as a rifle clamp. The wide soft rubber-coated clamp allows you to securely clamp any weapon, which not only gives ultimate stability, but also allows you to have both hands free from your shooting position in between shooting for making a decoy call, using binoculars, etc.
– Patented gun clip with soft and durable rubber
– Clamp can rotate 360 degrees
– Clamp can tilt 25 degrees forward and backward
– Telescopic lightweight carbon fiber legs with robust clamps
– Pole angle per leg adjustable (20, 40 and 85 degrees)
– Rubber feet with extendable steel pins
– Foam handle
– Built-in spirit level
11
People watching this product now!
Only logged in customers who have purchased this product may leave a review.