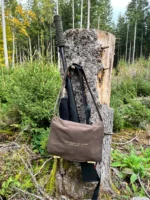 J.P. Sauer & Sohn shooting bag
€79,95
You usually don't need much when you're in an elevated shelter – so why carry a huge hunting backpack? The Sauer Hunting Bag is large enough for your thermal imaging camera, ammunition, a dog blanket/coat and other hunting accessories. It also comes with a detachable gun mount padded with plastic balls. The polyester material provides quiet access to all the items you need. Like a saddle, the bag can be hung over a fence or beam so that all pockets are quickly and easily within reach.
The Sauer Hunting Bag is reversible to protect its contents from adverse weather conditions. It features a shoulder strap that is adjustable in length for comfortable carrying, as well as numerous compartments and 6 cartridge loops, all accessible from the outside.
Dimensions: 38 cm x 6 cm x 25 cm (L x W x H)
Weight: 480 grams
10
People watching this product now!
Only logged in customers who have purchased this product may leave a review.